Leduc Rotary Music Festival 2.0
What's new in 2021?
In an effort to continue the tradition of supporting performance and education for music and art students, the Leduc Music Festival will continue in 2021 and be held in a virtual format this year.
Performances will be recorded and submitted to our adjudicators via a private YouTube channel who will, after watching all entries and preparing notes, hold a zoom class.  During the class the students in attendance will watch each others performances and listen to the adjudicators remarks.  Much like during the live festival.
Adjudicators sheets, marks and awards will be available for pick up or mailed to participants after the classes.
Recordings for piano and classical vocal will be held at Peace Lutheran Church from Monday to Saturday between March 22nd – April 1st, 2021.  Instructions on booking your sessions will follow.  All other disciplines will submit self recordings. Information below.  In the name of safety and to adhere to AHS Covid protocols the recording venue will have limited people and booking will be staggered to allow for sanitizing equipment.
How do I register for the virtual festival?
By registering to participate in the Leduc Music Festival you are agreeing for the festival to use your name and or photos in advertising, promotion, social media, and website.  If you wish to NOT have your photo published please contact the Registrar, Alex Singleton | registrar@leducmusicfestival.ca
The registration process for the 2021 Leduc Music Festival is much the same as usual.  In addition to your registration you will be required to scan a copy of the sheet music that you will be performing and uploading to our Google Drive folder.  When scanning please ensure the front cover and the page/s of your music are included in one pdf.  Also, please note on the front cover the entrant's number and the class number in which they are entered. If your music is a digital download you must also include a proof of purchase.
Registration is online and can be accessed using the link to the MusicFestivalSuite.com where you can set up your profile, linking it to your teacher and parent. This allows for both your family and your teacher to check the correctness of the registration and pay using Paypal once your information is complete.
Please note that the parents of registrants must login to their parent profiles and agree to our Photo, Consent and Waiver form. Due to the nature of a virtual festival, selecting "I agree" on this form is necessary and without this consent, entrants will be unable to participate in the festival.

If you do not want your child's photo or video to be used for any promotional materials (ie website, social media, brochures etc.), please contact us at registrar@leducmusicfestival.ca and we will ensure that your child's performance video is used exclusively for adjudication purposes and during the applicable Zoom class.
Once entered please send a scan of the music sheets of pieces that you will be performing.  Please label your music sheets with the entrant number and class number ("ENT0000.74502"). Upload the scanned sheets to this Google Drive folder.
2021 Leduc Music Festival Music Sheets
Do not label your sheets with personal information ie, name, phone number, ect.
If you are entered in piano or classical vocal you must remember to go to the booking calendar (available February 14th)  to book your recording session.  Other entrants will upload their self recordings to the same Google drive.
Important deadlines to remember:
February 5th, 2021 – Registration ends.
February 14, 2021 – First day to book recording sessions.
March 14th, 2021 – Last day to book recording sessions.
March 21st, 2021 – Deadline to submit musical theatre recordings.
March 28th, 2021 – All other self recordings must be submitted.
Who can enter the festival?The festival is open to everyone; only the awards and scholarships are limited.  Entrants 29 years & over will receive an adjudication, but are not eligible for scholarships.
What disciplines are able to enter the Leduc Virtual Music Festival?
In 2021 the only classes that will not be available in the Leduc Music Festival are choral, choral speech and concert band.  There will still be registration for piano, classical vocal, contemporary vocal,  instrumental, small ensembles and rock bands, speech arts, and musical theatre.
What happens if there are not enough entries to run a class?
The Leduc Music Festival Association reserves the right to cancel any class that does not have a sufficient amount of entries.
Are there changes to the syllabus with the virtual format?
 Check your syllabus carefully; there have been numerous changes in format in the last few years.
Changes to rules regarding local classes can be accessed here (scroll to page 1).   Please familiarize yourself with these changes to ensure you are registering in the appropriate classes.
Can I enter without a teacher?
Yes, you can enter the festival as an independent.  Please contact the registrar for assistance.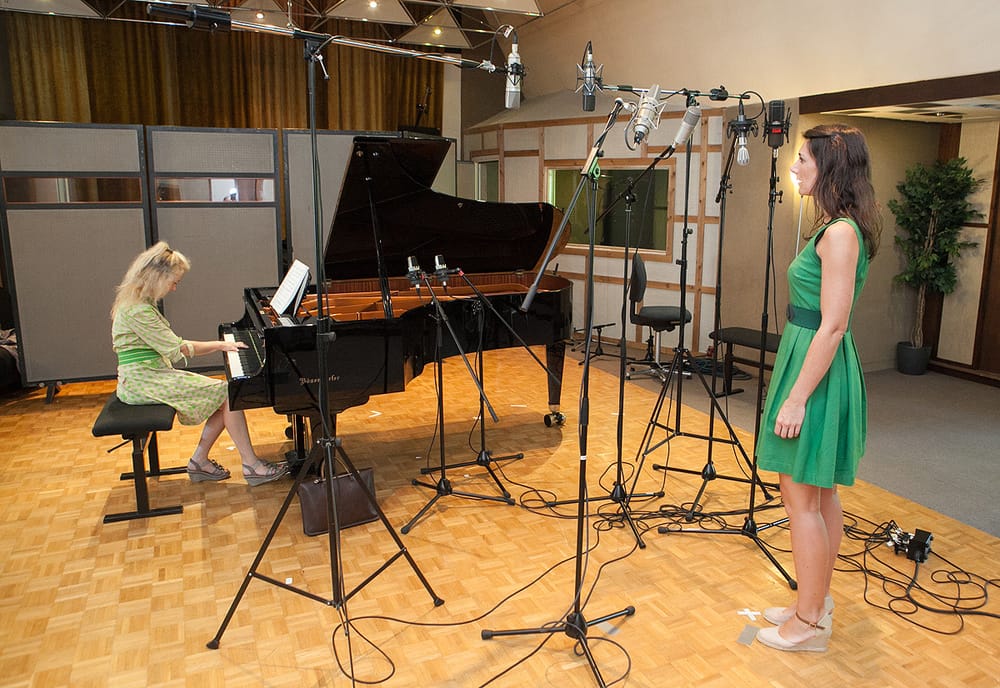 How do I book a recording session?
The calendar to book recording sessions is now closed.   
Recording sessions will be available from Monday to Saturday between March 22nd – March 31, 2021, including the evening of March 24th.  The number of days for recording sessions will be subject to the amount of entries.
If you don't have WordPress login credentials you will be asked to create an account.  This is so that you can manage or cancel any of your appointments.
Each student will require an appointment. You will only be required to book more than one session if your combined pieces come to more than 10minutes.
Enter the student's name in the form with the parent's contact information.  The parent/guardian's name, the class number, and the name of piece being being performed should go in the notes.
What if I'm submitting my own recording?
Piano and classical vocal are the only disciplines that will be recorded by the Leduc Music Festival.  We expect entrants to attend the recording sessions.  In the event that you are ill or in Covid isolation during that time, please contact the registrar at registrar@leducmusicfestival.ca to make alternate arrangements. 
All other disciplines besides piano and classical vocal will be required to submit a self recording. Our guidelines to help you create a successful recording will be available in a link by January 31, 2021.
Can concert bands and choirs submit their own recordings?
To comply with AHS guidelines, the Alberta Provincial Music Festival will not be holding band and choir competitions this year and The Leduc Music Festival will not be accepting any entries in these disciplines.  However, ensembles, duets, musical theatre and speech arts can register and submit self recordings.
What time should I show up for my recording session?
Please arrive at your recording session only 15 minutes prior to your scheduled appointment.  We will be limiting the number of people into the venue and ask that you wait in the foyer until the host escorts you into the recording area.
What should I expect when I arrive to my session?
When you arrive at the venue the Venue Host will check you in and read the Covid policies to you.
When the previous student has left the room and we have cleaned all equipment according to AHS protocols you will be invited into the venue.  You will introduce your piece and perform while our recording technician records and saves the file.  If you have more than one piece entered you will continue your performances until complete.
We will briefly explain what to expect next and you leave to make time for the next student.
Can I come early or stay after my recording session?
Unfortunately, this year will not allow for an audience for any performances.  You will have the opportunity to watch the other students in your class only during the adjudication classes via Zoom.  This link will be sent to you when the adjudicator is ready to set up the class. When all classes are complete Individual performances and a virtual gala will be announced and played on our social media channels.
Can I or my parents take pictures of recordings?
In the name of child safety, common decency, and in the respect for others we ask that you only record or photograph your own child's performance.
Recordings of the adjudication are not allowed!
Do not post any photos or videos of any performer (other than your own child), accompanist or adjudicator online with out explicit permission from the individual.
Please stay posted to updates on this as our capacity in the venue may be limited to students and accompanists only.
What should I wear?
You have worked very hard on your selection and should come dressed up to reflect respect for the festival and yourself.
What do I need to bring with me when I come to my recording session?
You need to bring one published/licensed score of the selection that you will be performing.
It is the responsibility of each participant to ensure they are not infringing on the composer's/author's rights in the performance of their selections.  The Leduc Music Festival Association assumes no responsibility for providing permission to perform or copy a composer's/author's work.
Can I perform a selection that is different than the one I registered?Yes, you can perform a different selection.  Any competitor who makes a change in his/her selection within the same class after the registration deadline  will be allowed to perform the new selection and will receive adjudication, but will not be eligible for the award.
This is in keeping with festival policy and to be fair to all competitors who are performing the selection they registered.
Will I still receive personal coaching and notes from the adjudicator for my performance in the 2021 festival?
Yes, thanks to the dedication of our adjudicators you will receive feedback via zoom classes. Your sheets, marks, certificate will be mailed to you after all classes have been marked.
How are marks awarded and registered?
The Leduc Rotary Music Festival provides a wonderful outlet for students to perform in public as well as an opportunity to work with some top quality adjudicators to improve their craft.  It also gives them an opportunity to inspire and be inspired by other musicians. In this spirit, we wish to encourage the learning atmosphere of our festival. We will continue with the standards system by not announcing the winners of the class or awards during the event. Instead, each participant will receive their adjudication sheet with their percentage achieved as well as a certificate which will have a seal of the standard they have achieved.   Marks will still be recorded by the adjudicator and secretary  to determine winners of the award groups.
Who qualifies for an award/scholarship?
Anyone 28 years old and under who resides in the City or County of Leduc or studies with a teacher in the City or County of Leduc.
How will I know if I've won an award or scholarship?  The Leduc Music Festival board will be contacting the award winners by phoning their teachers. Awards will be delivered by your teacher or mailed to you directly. Each award winner will be recognized on the website and social media.
How many songs or pieces do I need to perform to qualify for the provincial festival?
You must enter at least two provincially qualifying pieces as listed in the provincial syllabus in order to be recommended by the adjudicator. This year AMFA has extended the recommendations to provincials to two students per discipline.
Can I still qualify to perform at the Alberta Provincial Music Festival?
Anyone under 28 who resides in the City or County of Leduc or studies with a teacher in the City or County of Leduc.  Similar to the Leduc Music Festival, The Alberta Provincial Music Festival will also be virtual.  Some disciplines will not be included in this event.
Will the Leduc Music Festival still hold a Gala? 
We will be holding a small performance with limited seating on May 26th, 2021 at the MacLab Centre for Performing Arts.  We will also be presenting a virtual Gala on Youtube to be announced via social media.
What other ways can I be involved with the festival?
We welcome volunteers to help with the operations of the event  and new board members.  You can also donate money, gifts in kind or scholarships.